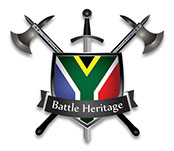 BHSA is the South African governing body of the Full contact medieval combat sport in South Africa. BHSA creates the opportunity for all affiliated clubs in SA to regularly meet up and test their Martial Art Skills in Medieval Combat.
BHSA also hosts the annual National Qualifiers for athletes who wish to represent Team South Africa at the World Championships in Europe every year.
Full Contact Medieval Combat Sport and its Origin.
The generally accepted origin of the modern sport of Full Contact Medieval Combat is that it began in the early 2000s in Eastern Europe, where medieval combatants from various modern martial arts experiences were looking for a more intense combat experience and started looking for a way to revive the medieval combat on foot tournaments as it were in the Medieval times. Further research had shown that to train for bloody battles, many medieval men-at-arms and knights would hold
"Deeds of Arms" tournaments geared to training soldiers for fully armoured combat. The difference being that at these tournaments, mortally wounding your foe was not the goal, but rather to demonstrate martial skill. As time went on and more and more Martials arts athletes started to show interest, this wholly new revival and interpretation of the "Deeds of Arms" form of historic medieval tournament fighting started to take shape and is rapidly growing internationally.
Technical Diciplines (1v1)
Sword n Shield
Long Sword
Sword n Buckler
Polearm

Professional Fights (1v1)
ProFight is the pinnacle of the 1v1 category whereby you not only demonstrate your technical ability to defeat your opponent but also supreme strength and cardiovascular abilities by grappling, kicking and punch as well.
Buhurt Dicipline (Team Fights)
This discipline requires a lot of team work to bring your opponents down to the ground.
The Buhurt teams consist of:
3v3
5v5
10v10
16v16
21v21
Click on the photos to view
---